First-quarter results for US retail are showing winners and losers and this edition of the Cashback Industry News looks at who's winning and losing. Bob Phibbs, The Retail Doctor, looks at the future of retail through The Loop, an Antwerp-based retail research lab. Sports Authority will close all 450 US stores as it could not carry $1 billion in debt. Mobile orders in the fast food industry are expected to reach $38 billion by 2020 and fast food outlets are scrambling to respond according to a report in Business Insider. Chico's decentralizes digital operations hoping to save $14 million annually.
How does $400,000 in sales in one day sound to you? Tower Paddle Boards in a special promotion with Amazon, sold nearly 750 inflatable paddle boards in one day, illustrating the power of Amazon. Market Watch's Jeff Reeves looks at what bricks and mortar retail needs to do to survive – which may include the closure of more than 800 department stores and focusing on all channels to serve customers better. Mannequins may become more popular with retailers again for use in gathering shopping data in the store and providing customer insight. Cloud computing is changing the retail game according to a new report from the National Retail Federation.
How Retail Store of the Future Holds Keys for Retail Shopping Trends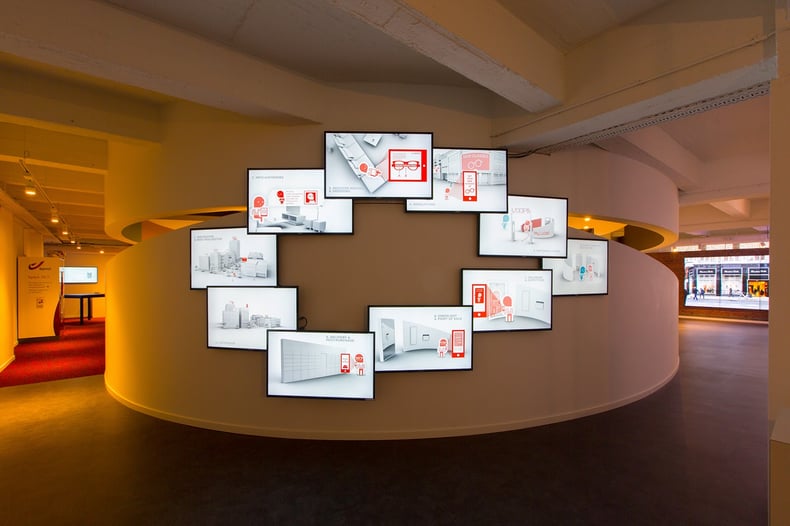 This past week after keynoting at the Retail Congress in Antwerp, I was fortunate to be able to visit The Loop, Retail Detail's knowledge lab where the future of retail is studied. There among the cobblestone streets, ancient mansions and a thriving metropolis I found a focus on understanding shoppers and retail startups like I've never seen before.
Jorg Snoeck, founder and CEO of Retail Detail, explained why The Loop was created. He said, "As a retailer, you have to concentrate on three critical issues today: the smart use of omnichannel, the experience for the customer, and your relationship with that customer's movements in the market. However, things are moving so rapidly that the retailer is almost hopeless to even see his own forest for the trees."
It's called the Loop because Retail Detail has identified the ten stages of a buyer's journey, beginning with their original inspiration to purchase, through that item making its way into their home, and then onto their next inspiration. They have mapped out each stage to see how technology plays a part.
While some still call it omnichannel, most retailers are simply referring to it as the complete or seamless sales journey, the idea being there is no separate buying channel – online, offline, mobile, or kiosk path – they all work in tandem. Rather than trying to identify and measure each one, the smart retailer must look at the entire customer journey loop. How Retail Store Of The Future Holds Keys For Retail Shopping Trends
Sports Authority to close all 450 stores nationwide
Sports Authority is closing all of its stores nationwide. The sporting goods retailer is carrying more than $1 billion in debt and will not reorganize.
The Englewood, Colorado, company is liquidating all 450 of its stores and will shut down in the coming months.
In March, Sports Authority filed for Chapter 11 bankruptcy in the United States Bankruptcy Court for the District of Delaware. Via abc7news.com
Mobile ordering's major fast-food impact
Whether in Starbucks or Pizza Hut, mobile ordering is taking over the fast-food industry. Orders placed via smartphone will make up more than 10% of all quick-service restaurant sales by 2020, Business Insider Intelligence projects. At that point, mobile ordering is expected to be a $38 billion industry.
While mobile-ordering programs at restaurants are still in their early days, fast-food chains are investing big in the future.
Brands that rely heavily on delivery, such as pizza chains, are especially attuned to the importance of mobile. At least half of sales at Domino's and Papa John's are through digital channels, while Pizza Hut clocks in at 46%. The pizza industry is constantly pushing to grow that percentage, as spending on the average pizza order is 18% greater online than on the phone. Via businessinsider.com
Apparel retailer Chicos decentralizes its digital operations
Chief marketing officer and president of e-commerce Miki Racine Berardelli is leaving Chico's, No. 85 in the Internet Retailer 2016 Top 500 Guide. The company operates Chico's, White House | Black Market and lingerie brand Soma. She had been at Chico's nearly two years and will not be replaced, the retailer says. Rather than have centralized control over e-commerce and marketing for all three brands, each brand president will oversee those areas.
"Disbanding these previously centralized functions will result in a leaner, more simplified structure that better supports the individual brand needs and places the functions closer to the customers, while at the same time, reducing costs and complexity within the company," CEO Shelley Broader said.
Chico's expects to save $14 million as a result of these changes, which come five months after Broader, a former Wal-Mart Stores Inc. executive, took over as CEO. Via internetretailer.com
How an Amazon daily deal offer drove eye-popping sales for Tower Paddle Boards
Standup paddle board manufacturer Tower Paddle Boards marketed one of its inflatable boards on Amazon for $549—$250 less than its usual price on Amazon—and the combination blew up sales Monday, giving Tower its best sales day ever.
The manufacturer, which also sells online at TowerPaddleBoards.com, sold nearly 750 boards in 24 hours on Amazon, generating nearly $400,000 in sales. "That's more than we did in our first year and a half in business," says founder and CEO Stephan Aarstol.
By comparison, he says Tower sells about $11,000 in merchandise through Amazon's marketplace on a typical day. Via internetretailer.com
This is how the retail industry is dying
Brick-and-mortar retail-store closures are hardly news these days. As older merchants try to fend off the endless assault of e-commerce, the hit list of dead and dying retailers only seems to grow longer.
Sports Authority and Vestis Retail Group, the operator of Sport Chalet and Eastern Mountain Sports, recently declared bankruptcy. Together, the pair will close 196 sporting-goods stores across the nation as more people shop for cleats and field-hockey sticks online. Hancock Fabrics, a crafty retailer founded in 1957, recently announced it would be closing all of its 185 stores as it files for bankruptcy this year.
There's also retailer Staples SPLS, -0.96% which just announced it's closing another 50 stores despite shedding 242 North American locations in the past two fiscal years. And there's Tailored Brands TLRD, -3.05% which is shuttering 250 of its Men's Wearhouse and Jos. A. Bank locations after ending 2015 with a $1 billion shortfall. This, my friends, is how retail dies. Via marketwatch.com
The mannequins are watching: How that helps retailers correlate in-store and online behavior
Data collected from sensors in mannequin adds to data from store checkout systems, websites, mobile apps and more to help retailers create a full view of each customer.
When I was a kid, mannequins used to freak me out. Their smooth, rigid, often eyeless forms loomed over me, sporting this season's hottest new shirts and sweaters. I used to think they were watching me. Back then, they weren't. Now, they are, and that may be a very good thing for retailers and their customers alike.
The retail industry is no stranger to big data. Many retailers are in the second or third iteration of their big data strategies. Part of the challenge is that there are so many potential applications for big data that retailers are forced to prioritize initiatives and investments. The other challenge is that, as with most analytics projects, the moment you start finding answers, you come up with new and more interesting questions. The more aggressive and agile retailers are taking big data analytics in some really exciting directions. Via internetretailer.com
How Cloud Computing Is Changing The Retail Game
The retail industry is constantly evolving to meet the ever-changing needs of consumers. This transformation is influenced by e-commerce, social networking and the latest technologies. Today's shoppers expect a connected and interactive consumer experience from start to finish. According to a report by the National Retail Federation, it is a projected that retail sales (this includes automobiles, gas stations, and restaurants) will grow at around 3.1% this year – that is higher than the 10-year average of 2.7%.
As the size of the retail industry continues to grow, so does the pressure of retailers to satisfy the expectations of consumers. Retailers are expected to provide a seamless consumer journey across multiple channels as well as personalized offers based on consumer location and shopping habits.
According to a recent survey by Accenture, 74% of surveyed retailers were ranked at or below "underdeveloped" to deliver a seamless customer experience. The survey further showed that 72.5% of retailers described having underdeveloped or absent capabilities in making the end-to-end shopping experience across different channels. Via cloudtweaks.com
More retail news ahead
Watch for regular retail news updates as we track this important business sector in the US, EU and around the world. You can get cashback industry news weekday mornings in your inbox by signing up at the top of this newsletter. It's free and it's news you can use.