It's been a busy week. Welcome to our weekly roundup of ecommerce, cashback & retail news you can use. And now for something completely different where in London you can get £400 ($583) cashback from the Mayor to replace your old boiler or water heater. Amazon Now, a two-hour food and grocery delivery service, launched in Bangalore this week. Retailers, had enough of millennials? Watch out for "tech genius" Generation Z, coming to your stores soon. Visa Commerce Network debuted, promising to help merchants get new customers with offers and encouraging consumers to try new merchants.
BloomReach raised $56 million to expand its vision to make every site, tablet, and mobile experience in the US more relevant for consumers CEO Raj De Datta said. And what's the future of e-commerce? Bricks and mortar if you can believe a recent story in The Guardian. Initially in San Francisco, and now in Chicago and New York, Doorman makes sure you don't miss delivery of a product you ordered. Predictions of Amazon launching 300 to 400 brick-and-mortar stores may have been premature after all says a report in The New York Times. A couple of dozen stores may be more accurate.
London Boiler Cashback Scheme
Do you want to make big savings on your energy bills? Do you have an old, inefficient boiler? Are you a London home owner or an accredited private landlord?
If the answer to all these questions is yes, you could receive £400 towards the cost of upgrading to a new, high-efficiency boiler from the Mayor's new London Boiler Cashback Scheme. The scheme – which launched on 2 February 2016 – is first-come, first-served. We expect it to be very popular, so please apply soon to avoid disappointment. Via london.gov.uk
Amazon To Deliver Grocery In 2 Hours In Bangalore with 'Amazon Now'
Looking at the massive market size and trends in Indian online grocery segment, Amazon, has launched its grocery delivery app in India by the name Amazon Now. The app will allow users to order everyday essentials.
The new service will offer delivery within two hours and one can even opt for scheduled delivery. Customers can place orders anytime between 10 AM to 10 PM. The service is currently available only on Android platform in 70+ pincodes in Bangalore. Amazon will probably expand the service in other cities as well over a course of time. Via inc42.com
Tapping Generation Z
Generation Z was born digital. "They have no idea that there's been a technology revolution," says Piers Guilar, executive strategy director of Fitch, a retail and branding consultancy. "They're above 'tech savvy,'" agrees Nancy Nessel, founder of marketing advice website Getting to Know Generation Z. "I call them 'tech genius.'"
Indeed, 92 percent of US teens go online daily, and 24 percent are online "almost constantly," according to a 2015 report by the Pew Research Center. This digital fluency has changed the places where teenagers congregate and the channels they use to shop. "The old rules of retail no longer apply," explains Guilar. "Teenagers don't distinguish between buying online, looking at things on Twitter and buying in a bricks-and-mortar store. Via businessoffashion.com
Can Visa's New Platform Change Mobile Payments?
Last week, sort of tucked inside of its Q1 earnings and then a day later via a Friday morning press release, the world's largest payments network launched the Visa Commerce Network. Think of it as an interoperable, ecosystem-wide promotions engine that connects merchants with offers to give to consumers with Visa accounts, seamlessly and automatically, but with a powerful and sticky twist. Instead of just making it easy for offers to be tracked and redeemed, consumers are given incentives to try new experiences at new merchants that they may not have tried before.
So, Uber customers get rewarded with discounted rides for trying out Shake Shack, or shopping in a specific grocery store. The trick here is to prime the pump for trying something new by giving existing consumers a reward for doing so.
Built off the TrialPay platform that Visa acquired in 2015, the Visa Commerce Network is a way to make promotions less friction-filled, and it stimulates the one thing that merchants want more than anything: an efficient way for them to acquire new customers. And the best way to do that is to leverage the relationships that existing merchants have with their customers – sort of a "hey, thanks for being a loyal Uber customer – here's something off a meal at Shake Shack." Via pymnts.com
BloomReach lands $56M to deliver personalized marketing to digital business
In what is one of the largest funding rounds for any private cloud personalization company ever, BloomReach announced today it has landed $56 million in Series D funding. The round underlines the increasing interest in personalized marketing, an area that offers promising returns to those who employ it. Our survey of 506 marketers found that over 70 percent have seen an increase in bottom line results by using personalization.
BloomReach offers personalized marketing solutions that help to drive consumers to the right products. However, its technology has always been about going further than the usual "people also bought this" functionality BloomReach says its technology allows a company's website and communications to act more like they've been designed "just for you," adapting to each user without requiring a login. And in September 2014, BloomReach launched Compass to help ecommerce platforms understand how to manage their content better. Via venturebeat.com
The future of e-commerce: bricks and mortar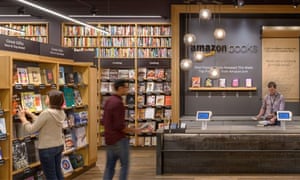 Amazon is only among the latest, if largest, e-commerce players to take a stab at traditional retail after starting life online. In the last few years, some 20 online companies in the US have launched a physical presence to better market their wares, forge closer customer relations, and yes, boost online traffic and sales. Amazon aside, these include mostly specialty and clothing stores such as Warby Parker, Bonobos, Birchbox and Casper.
The trend also reflects the broader industry imperative around "omni-channel" retailing, where merchants aim to provide customers with a seamless experience whether shopping online via desktop or mobile device or at a traditional retail store. Via theguardian.com
Delivery Startup Doorman Adds Support for E-Commerce Returns
Rather than coming home from work to find a "missed delivery" slip, Doorman customers can set a delivery time between 6pm and midnight that's convenient for them (packages get delivered to Doorman first, and then to the consumer). The new return service works in a similar way — you just schedule a pickup in that same time window.
CEO Zander Adell said this was a much-requested feature, particularly for customers who both shop and return regularly with online stores, leaving them with "all of these returns sitting in [their] house" until they found the time to schlep all the boxes to the UPS store. So Doorman started experimenting with making returns available to its $29 per month Gold Plan members last year, then rolled it out to all customers in the latest app update. Via techcrunch.com
Daily Report: The Mystery of Amazon's Bookstores
The rumor mill went into overdrive earlier this week when Sandeep Mathrani, chief executive of the mall properties company General Growth Properties, said on a conference call that Amazon was planning to open 300 to 400 physical bookstores. After his comments went viral — many people are eager to believe that Amazon is stretching its tentacles into all sorts of areas — Mr. Mathrani's company issued a one-sentence statement late Wednesday afternoon to amend what he had said, noting his remarks were "not intended to represent Amazon's plans."
The backtracking immediately became the butt of jokes on social media, with numerous quips circulating on Twitter about the trustworthiness of mall company C.E.O.s. "I can't believe a mall C.E.O. lied to us," went one tweet. "What next, we find out they don't have the real Santa?" So what's the truth of the matter? Via bits.blogs.nytimes.com
That was a busy week in e-commerce, retail, cashback and mobile commerce. TGIF. We'll see you Monday with fresh news and insight as always. Enjoy your weekend!