We take another look at the competitive world of coupons, vouchers and consumer incentives. They show no signs of dropping in popularity and here's the latest news and trends with digital coupons and vouchers. In its 2016 State of the Mobile Coupon Industry report, Koupon Media reports mobile coupon usage grew 18% in 2015. The report also noted 65% of digital coupons are redeemed within the first five minutes of receipt. Kantar Media reported value of free-standing insert (FSI) coupons increased 3.7% in 2015 to $515 billion. Forrester Research/Linkable Networks research shows 34% of Millennials prefer to use digital coupons on a smartphone app. The same study showed 30% consume meals and snacks the same day of purchase.
CIOL noted 59% of consumers stated that digital coupons and coupons codes influenced their buying decisions. Linkable Networks said 89% of consumers used coupons for at least one purchase in the past three months. With coupons for more than 500 retail partners, LafaLafa raised new venture capital from Hong Kong-based Vectr Ventures. Kate Atty, Director of Marketing, Persio said unique barcode coupons are growing in popularity as a way for retailers to track consumer path of purchase.
Industry Update: Latest Report on Mobile Coupons Confirms Usage Up in 2015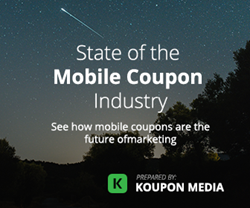 Today leading mobile coupon platform Koupon Media released its 2016 State of the Mobile Coupon Industry report.
The report affirms the growing trend reported by eMarketer that the number of consumers in the US who used a mobile coupon in 2015 grew 18% to 92.6 million. The data found in the report also points to the rise of mobile coupons in mobile marketing:
–  42% of mobile users have used a mobile coupon
–  39% of customers spend more if they receive a personalized coupon
–  60% of customers would adopt mobile payments if offered coupons
In 2015 Koupon Media offers drove 20 million total store trips and $100 million in revenue for brand and retail partners. Via prweb.com
65% redeem mobile coupons within five minutes: report
With 65 percent of convenience store shoppers who use mobile coupons redeeming offers within five minutes, savvy retailers are leveraging their loyalty programs and in-store signage to target consumers who are nearby or in their stores, according to a report released today by Koupon Media.
Mobile coupon adoption continues to grow as retailers and brands get more innovative, helping drive higher redemption rates than for paper coupons, according to Koupon Media's Mobile Coupons: State of the Industry 2016 report. Gamified scratchers, 30-day promotions, redeemable display ads and TV marketing are just some of the ways marketers are boosting their mobile coupon efforts. Via mobilecommercedaily.com
Retail marketers find less is more with coupons
Some major retailers sharply reduced their use of printed free-standing inserts (FSIs) last year but the total dollar value of FSIs still grew to a record $515 billion. The value of free-standing insert (FSI) coupons increased 3.7% in 2015 to $515 billion, according to Kantar Media. However, the number of FSI pages distributed fell 8.1% as marketers cut back on pages that didn't include a coupon. The number of coupons circulated increased nominally versus the prior year, and combined with higher face value led to growth in dollars circulated.
"With a broad variety of channels to choose from, including digital coupons and shopping apps among others, manufacturers and retailers are fine-tuning their respective strategies. Print coupons still remain a critical promotional tool, but are being used more efficiently: While there are fewer pages being distributed, there are more coupons per page containing higher value offers," said Lisa Ekstedt, director of custom solutions. "Manufacturers are further limiting their financial exposure by reducing expiration lengths while still benefiting from the advertising impact of the FSI coupon. Decreases in direct response advertising and retailer FSI promotion events, which include a featured price and net price after the coupon savings ultimately led to a higher share of voice for FSI coupons." Via drugstorenews.com
Millennials Use of Coupons: Food For Thought
In the age of connectivity, consumers thrive on instant gratification, and especially Millennial consumers. They are a very spontaneous generation and tend not to plan their shopping trips, and many purchases are made ad hoc. Retailers that focus on traditional methods like a store circular and consumers clipping or printing coupons to drive consumer engagement need to be on the lookout for new promotional methods that appeal to this spontaneous generation. As we have all seen, Millennials fall into a variety of life styles; some are in college, some are married with kids, and some are working singles etc., so we as marketers need to have a multi-focused approach to win with this generation. Like every other generational segment, they need to save money but want it to be easy.
According to recent research by Forrester Research on behalf of Linkable Networks, 34 percent of Millennials prefer to use digital coupons loaded into an app on their smartphone. This highlights a growing perceived value of digital coupons now and in the future. The study also found that 30 percent of snacks and meals are consumed by Millennials on the same day they are purchased. These statistics show that not only do people increasingly demand digital solutions, but also that there is little planning involved in their trips to the grocery store. Via progressivegrocer.com
Bye Bye 2015: How digital coupons affected consumer behaviour
2015 has been a great year for digital coupons industry. There's a strong human emotion and motivation to capitalize on an opportunity to save. 59% stated that digital coupons and coupons codes influenced their buying decisions compared to other means of promotions. A shift between desktop to mobile shopping was noticed due to increasing use of smartphones, tablets and broadband and 3G/4G internet availability.
About 60% of the digital coupon users who searched for coupons to find the best deal and the greatest value when shopping online in 2015, searched that from their mobiles. E-commerce has grown 10 times since last year and have become $40 billion industry now which makes it one of the most promising industries in India. Via ciol.com
Don't Clip Coupons; Download Them
According to Linkable Networks, in a study commissioned to Forrester Consulting to evaluate consumer preferences and pain points regarding in-store consumer packaged goods (CPG) couponing and identify target segments for card-linked offers, the vast majority of consumers use coupons for in-store CPG purchases on a regular basis. 89% of survey respondents had used coupons for at least one purchase in the past three months.
While over half of respondents have used traditional paper coupons such as free-standing inserts (FSIs) and direct mail, 37% reported using various types of digital coupons in the past three months, but pain points in both paper and digital couponing, such as forgetting to use coupons, hinder active coupon usage.
Overall, survey respondents cited forgetting coupons as a top-of-mind pain point. This was true for both regular and infrequent coupons users, says the report, indicating that they regularly forget to bring coupons to the store. 79% of consumers have decided not to buy an item because they forgot to bring a coupon to the store. Clipping, cutting, and searching also contribute to this frustrating paper coupon experience, further discouraging consumers from actively using coupons. Via mediapost.com
Cashback & Coupon App LafaLafa Bags Seed Fund from Vectr Ventures
LafaLafa, a mobile-first digital coupons and cashback aggregator has raised seed fund from Hong Kong-based Vectr Ventures. This is Vectr's first ever investment in India. The raised capital shall be used to ramp up the startup's technology back-end and expand within Asia.
LafaLafa is owned by Yellow Brick Road and was founded in January 2015 by Yosha Gupta. The company offers coupons for 500+ websites including Paytm, Snapdeal, Flipkart etc. Further, it also gives its users cashback upon any purchase from their partner stores. Its app has between 500,000 – 1,000,000 installs and is rated 3.9 on Google Play. Via iamwire.com
Trends to watch in the coupon craze
One trend that is changing how consumers coupon is the unique barcode option. These barcodes are also important for retailers because they allow for the retailer to follow the consumer's path to purchase, gaining valuable insight into how people come to the checkout stand.
"Unique barcodes are are a really powerful way for retailers follow the path to purchase on an individual basis. An offer can be sent from the website to a phone with a unique barcode, and when scanned at the register, the retailer now has a lot of information on this person's buyer journey and product preferences, allowing them to better personalize future marketing on all channels. The ability to encourage shoppers to go from web to mobile to store via coupon is also a huge innovation in a retailer's ability to connect the dots between a historically fragmented path to purchase," said Kate Atty, Director of Marketing, Persio. Via bizreport.com
Ecommerce Africa/Middle East Update
Join us tomorrow as we update news and trends in e-commerce in the Africa and Middle East markets. Don't forget to subscribe to receive Cashback Industry News in your inbox Monday to Friday – no spam, just highlights and news you can use.