In today's Cashback Industry News, we've got a collection of news, insights and recent developments in cashback, e-commerce, VC, retail and mobile commerce news in India.
Snapdeal scored a major coup by attracting a $200 million investment from Canada's Ontario Teachers Pension Plan. Funds will be used for strategic business expansion. Rakuten, will close e-commerce operations in Singapore, Malaysia and Indonesia as part of a global reorganization. It reported strong results from global e-commerce subsidiary Ebates. Amazon India and another $300 million in investment into the growing e-commerce market. Paytm is investing $1.5 million to market "Made in India" products and target more than 5000 manufacturers. Paytm revealed it has given away Rs 588 crore ($86.3 million) of cashback to customers in 2015.
McDonald's India teams up with Foodpanda  to deliver Big Macs in selected areas in the subcontinent. Digital payment platform FreeCharge partners with ePaisa to extend mobile payments and cashback to thousands of off-line retailers. Billionaire Ratan Tata and other VCs invested in retail technology startup SnapBizz in a new $7.2 million round. Zomato announced it is now profitable in India, Philippines, Indonesia, United Arab Emirates, Lebanon and Qatar.
Snapdeal gets $200M from Ontario Teachers Pension Plan, others
E-commerce marketplace Snapdeal has raised $200 million (Rs 1,362 crore) in a fresh round of funding from Canada-based Ontario Teachers' Pension Plan and other investors, it said in a statement. Singapore-headquartered investment firm Brother Fortune Apparel has also put money in this round, The Economic Times said in a news report.
"We continue to make targeted investments in building internal and external capabilities that will enable us to deliver optimal experience for the millions of buyers and sellers who transact daily on Snapdeal," said Anup Vikal, CFO of Snapdeal.
The latest round values Jasper Infotech, the company that runs Snapdeal.com, at $6.5-7 billion. The e-commerce venture had last raised $500 million (Rs 3,250 crore) at a valuation of $5 billion in August 2015. iPhone manufacturer Foxconn, Chinese e-commerce giant Alibaba and existing investor SoftBank had led that round. Its other existing investors Temasek, BlackRock, Myriad and PremjiInvest also participated in this round. Via techcircle.vccircle.com
Rakuten shuts Singapore, Malaysia and Indonesia ops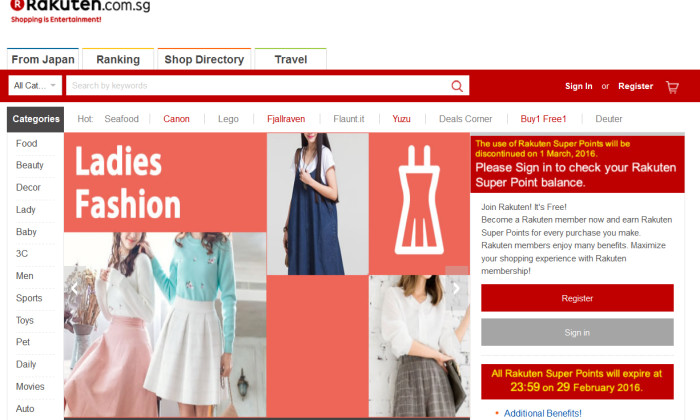 Japanese online retailer Rakuten Inc is shutting its operations in Singapore, Malaysia and Indonesia affecting under 150 employees. Nonetheless, the company will still have a regional headquarter in Singapore. A spokesperson from Rakuten has confirmed this with Marketing.
"Rakuten is closing early model B2B2C e-commerce marketplaces in Singapore, Malaysia and Indonesia. This is part of a transformation of e-commerce that is key to Rakuten's global strategy map for the future as announced on February 12. In SE Asia, as the market itself changes and adapts, we are looking toward C2C and mobile business models for e-commerce and other businesses," read the statement given to Marketing. Via marketing-interactive.com
Amazon Infuses $300M in Indian Ops; To Provide Loans For SMEs
Last year in August, Amazon had started offering SME loans under their Amazon Lending platform. Loans were programmed for a period of 6-12 months, and Amazon has a solid monetization procedure from the interest generated. The amount of loan which would be dispersed range between Rs 2 lakh and Rs 5 crore; and Amazon will charge interest between 13-15% for the same.
In India, Amazon has around 65,000 sellers, who are active; and as per reports emerging, the loans would be approved within 5 days for them. Interestingly, India is only the 3rd country where such attractive 'SME Loan' program has been launched by Amazon: USA and Japan are the only countries where this is being run.
Considering the fact that 41% of Indian SMEs do not get approved for any type of loan from banks/financial institutions (as per KPMG report); this is indeed an excellent step by Amazon. As per ET, this is a step to fill in the gap of Rs 2.93 lakh crore which Indian SMEs face right now. Via trak.in
Paytm To Invest $1.46 Mn to Market "Make in India" Products
Mcommerce giant Paytm is all set to spend about $1.46 Mn (INR 10 Cr.) to market 'Make In India' products on its platforms, website and mobile. The products in the section will include everything from mobile phones, clothes to home furnishings. With this investment, Paytm looks to target 5,000 manufacturers by the end of the year.
Sudhanshu Gupta, Vice President at Paytm said, "Bolstering the business of small and medium retailers within the country is core to our brand DNA and is aligned with the Prime Minister's vision for the 'Make in India' programme."
As a part of this programme, the company will work with the manufacturers in terms of on-boarding and handholding them to manage and grow their online business. Besides, Gupta expects the sellers to reach about INR 100 Cr. monthly gross merchandise sales in the next few months. Via inc42.com
Vijay Shekhar Sharma Reveals Total Paytm Cashback in 2015
During the just concluded India Digital Summit conducted by IAMAI (Internet and Mobile Association of India), Paytm founder Vijay Shekhar Sharma gave a passionate, interesting and mind-blowing presentation on the 'Technology Giving Leap To Financial Inclusion' topic, and in that, he shared the amount of cashback which Paytm rolled out last year.
This figure has never been shared earlier. Vijay shared that Paytm has given away Rs 588 crore ($86.3 million) of cashback to their customers in 2015. Via trak.in
Foodpanda teams up with McDonald's for online food delivery
Online food ordering platform Foodpanda has joined hands with Hardcastle Restaurants to deliver food from McDonald's in west and south India. Hardcastle Restaurants owns and operates McDonald's chain of restaurants in western and southern regions.
The partnership would lead to the US-based food chain operator McDonald's widening its accessibility across multiple platforms, giving customers more options while ordering online, Foodpanda said in a statement. Via dnaindia.com
FreeCharge partners with ePaisa, strengthen payments at offline stores
FreeCharge, one of India's digital payment platform on Friday announced its partnership with ePaisa. This partnership will enable customers with easy payment options through the FreeCharge wallet giving them the access to a varied set of offline merchants across retail, food and beverages, wellness, travel and entertainment. FreeCharge aims to be the payment OS of the country. FreeCharge's goal is to create an ecosystem for digital payments.
"To create this ecosystem FreeCharge is partnering with a number of players to enable many use cases both offline and online. Through partnership with ePaisa we would enable digital payments at thousands of offline merchants," the company said in a statement.
Customers paying through the FreeCharge wallet will also be able to avail exciting offers including cashbacks and additional discounts on spends at the registered merchants. In order to boost the digital payments adoption, FreeCharge will also run incentives with individual merchants that come on board with ePaisa. Via bgr.in
Ratan Tata backs retail tech startup SnapBizz
Tata Sons' chairman emeritus Ratan Tata has invested an undisclosed amount of funding in retail technology startup SnapBizz Cloudtech Pvt Ltd. Earlier last month, the startup, which provides an Android-based connectivity platform to local offline grocers, raised $7.2 million (around Rs 48.7 crore) from Jungle Ventures, Taurus Value Creation and other VC firms, to expand across key cities in India.
Before that, the Singapore-headquartered firm, which has an office in Bangalore, received a seed funding of $1.7 million from Qualcomm, Jungle Ventures, National Research Foundation of Singapore, Taurus Value creation and Blume Ventures.
This is the eighth investment in 2016 for Tata, one of India's most active angel investors last year. This year, Tata has also invested in tea etailer Tea Box, coupons site CashKaro, baby products e-commerce site FirstCry, startup analytics firm Tracxn, animal lovers' portal DogSpot, Invictus Oncology and Moglix. He has backed 29 startups since retiring as Tata Group's chief. Via techcircle.vccircle.com
Zomato Gets Profitable in India & 5 Other Regions; Seeks Additional Funding
Food & Restaurant reviews are synonymous with Zomato in India and there are no competitors that offers so much coverage with such minimalistic user experience. Zomato got into food delivery last year which increased its monetization potential, while still offering discounts for few deliveries.
Today, Deepinder Goyal led startup has announced that Zomato has turned profitable in India and five other regions. The other countries are Philippines, Indonesia, United Arab Emirates, Lebanon and Qatar. Founded in 2008, it comes as a great news that one of the biggest India-born startups has started making profits in the country, something which most others, including the likes of Flipkart and Snapdeal, can't yet boast about.
Pankaj Chaddah, Co-Founder of Zomato, said in an interview, "We can now channelize the profits to grow faster and compete harder in countries where we see significant competition. It's a great thing that we don't fully depend on external funds to fuel all the experiments and initiatives that we have undertaken in India and elsewhere." Zomato's profits could mainly come from online deliveries and advertisements on its website and app. Via trak.in
More boom or bubble ahead?
India continues to fascinate venture capitalists, e-commerce and cashback companies around the world. The market is booming, the size of the marketplace is huge and growth remains high on the horizon. There are rumbles about over-heated evaluations and profits are definitely a challenge but the investment keeps coming from inside and outside the country.