We're taking a look today at recent market developments in China including acquisitions, investments and highlights of interest to China-watchers. A new Credit Suisse report says China's  middle class is larger than the US for the first time, no doubt adding fuel to interest in the burgeoning marketplace. Find out the picture with Alibaba's acquisition of big Chinese video site Youku. Uber rival Yidao Yongche raises $700 million for Chinese expansion.
Yum! China separates KFC/Pizza Hut/Taco Bell from US operations. IAG throws in the towel on China after shareholder activist pressure. Despite Alibaba owning more than 80% of the online retail China market, one analyst says there are niche opportunities for competitors like VIP and Yhd.com.  JD.com and Tencent partner to deliver mobile marketing in China. Not surprising, according to Isobar CEO Jane Lin-Baden who says e-commerce is essential for success in China and 80% of internet mobile users use mobile for ecommerce.
China's middle class has overtaken the US to become the world's largest
China has crossed another economic threshold. The country's middle class reached 109 million this year, and overtook the US's for the first time ever, according to a Credit Suisse report released Oct. 13. China's middle class is growing much faster than the US's. Since 2000, China added 43.4 million middle class adults, while the US added just 22 million, the report said
Globally, 664 million adults, or 14% of the adult population, belong to the middle class in 2015, Credit Suisse said. That's up from 524 million in 2000. Middle class wealth grew at a slower pace than wealth at the top end of the economic spectrum this year, the bank said, and grew faster in Asia than in Europe or North America.  Via qz.com
5 big reasons Alibaba is acquiring a video site
Alibaba made it clear earlier today that it wants to acquire China's top video site in a deal that would value Youku at over US$4 billion. But what does China's ecommerce giant want with video content?
Youku and sister site Tudou (which merged in 2012) get 900 million video views each day – a figure that tripled from 18 months prior. The company has 150 million daily active users. That's a sizeable user base for Alibaba to snap up – but the deal is all about strategy, not sheer numbers.  Via techinasia.com
Yidao Yongche, A Lesser Rival To Uber In China, Raises $700M At A $1B Valuation
Yidao Yongche, a three-year-old private car service, has received an investment that values its business at the magic $1 billion mark. LeTV, an ambitious Chinese company that sells smartphones, runs a growing video site, and holds other business interests announced today that it has bought a 70% stake in Yidao Yongche. LeTV said the investment is undisclosed, but the taxi firm confirmed to TechCrunch that the amount is $700 million which puts it in the billion dollar unicorn bracket. Via techcrunch.com
Yum Brands to Separate China Business After Three Decades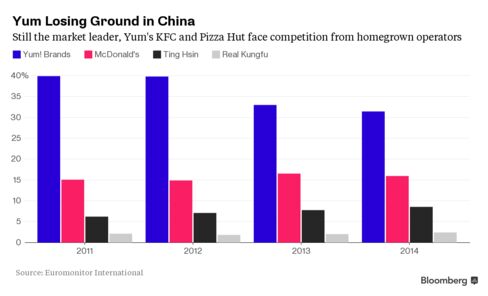 Yum! Brands Inc. bowed to activist-investor pressure and agreed to separate its China business from its U.S. operations, the biggest shake-up at the company since it was spun off from PepsiCo Inc. almost two decades ago.
Yum! China will become a franchisee of Yum in the Asian country, with exclusive rights to KFC, Pizza Hut and Taco Bell, according to a statement Tuesday. Via bloomberg.com
Why Australia's IAG threw in the towel on China
They expressed concerns about spending up to A$1 billion in a market where the chance of failure was high. Frankly, to us, it didn't make sense. Kim and others were rewarded on Thursday when IAG said it will halt further investments in China. IAG shares, which have underperformed rivals and the broader market this year, jumped 6 percent, adding about A$750 million in market value in one day. Via dealstreetasia.com
The new niches in China's ecommerce market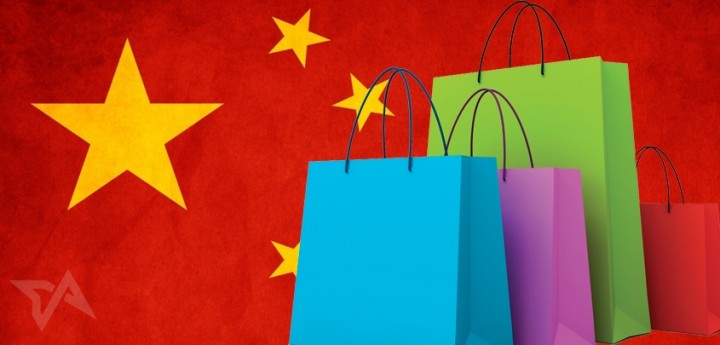 If you only look at the Chinese ecommerce giant's recent financial report, most people would agree that the competition has settled because Alibaba alone has accounted for about 80% of the market share in online shopping sales. The combined sales from Alibaba and JD.com have close to 90% of the Chinese online retail market. However, at least one executive of a Chinese e-retailer thinks the position of those leaders is not secure….
Li says people seldom know Vipshop, the number 4 internet retailer in the China 500, and Yhd.com, the number 7 internet retailer in China 500, three years ago, but now they have become ecommerce leaders in their categories in China.
In other words, new horizons may be coming for niches within China's ecommerce market in the same way that we see companies like Warby Parker and Zappos coming up in the USA. Keep on a lookout for these small well-branded niche companies in China, while you look past the big guys like Alibaba and JD.  Via techinasia.com
JD.com and Tencent Expand Partnership to Transform Mobile Marketing for E-Commerce in China
JD.com, Inc. (Nasdaq:JD), China's largest online direct sales company, and Tencent Holdings Limited (Tencent) (SEHK:00700), a leading provider of Internet services in China, today jointly announced an expanded partnership to provide merchants with innovative mobile marketing solutions ahead of this year's Singles Day promotion.
The expanded mobile marketing partnership will explore new avenues to leverage Tencent's leading social communication platforms, Weixin and Mobile QQ, and use its massive big-data resources alongside JD.com's leading e-commerce platform and its vast wealth of data about online shopping trends and behavior. The collaboration will offer businesses advanced online tools to more precisely reach their target customer groups, build brand recognition and increase marketing ROI by providing brands access to Weixin and Mobile QQ users. Via nasdaq.com
Marketing in China: Understanding the Vitality of Ecommerce
Digital is now the most important channel in China, the world's biggest ecommerce market, and Jane Lin-Baden, CEO of digital marketing agency Isobar China Group, is one of the industry's leading experts…. "It's not just important, it's essential. It's no longer just a communications channel, it's a crucial business pillar. Many people outside of China don't realize how mature the digital environment is in China and how complicated it is. Chinese consumers are highly adapted to digital and also very well adapted to ecommerce.
The internet penetration rate is very high in China, and mobile penetration is even higher than desktop. Now 80% of internet mobile users use mobile for ecommerce. Consumers are very familiar with the digital environment in China, particularly in tier 2, 3 and 4 cities, where many products may not be available through traditional channels. I would say that ecommerce is really the force behind the digital marketing environment in China…." Via emarketer.com
China's Sluggish Economy Forces E-Commerce Giants to Target New Customers
Last year, many villages in China were introduced to internet-enabled smartphones via government programs, and many consumers had their first experiences with online shopping. According to a report from the CINIC (China Internet Network Information Center), and as the above graph shows, the number of online shoppers grew at a rate of 41% in rural regions, compared to the 17% growth rate of online customers in the urban areas.
These figures clearly suggest a strong potential for increased online shopping in rural regions of China (FXI). E-commerce players like Alibaba, JD.com, Tencent Holdings (TCEHY) and Baidu (BIDU) are stepping up their games accordingly, working toward expanding their logistics networks to these rural regions. Via marketrealist.com
Brazil Ecommerce
Tomorrow, we feature an in-depth look at ecommerce in Brazil where the economy may be struggling but ecommerce is taking flight. Join us!