Anyone following global e-commerce knows the Middle East, like many developing regions, has huge potential despite the immense cultural, economic, technology and political stability challenges. Our research team dug deep to profile the e-commerce trends and the companies having early success and poised to grow fastest in the region. A Payfort report puts online Arab e-commerce growth at 23% in the seven largest countries in the region led by Saudi Arabia and followed by UAE, Egypt, Kuwait, Lebanon, Jordan and Qatar.
Ramadan is proving a strong time for online sales for Souq.com. According to PayPal, e-commerce reached $15 billion in the Middle East in 2015 and is poised to continue rapid growth in the future. Demographics in Turkey are working in favor of startups like Trendyol which reached $188 million in sales in 2015 and expect to double in 2016. Iran's e-commerce market is growing after sanctions were lifted and it now has 46 million internet users.
Iranian e-commerce marketplace Digikala has more than 750,000 unique visitors to its website daily and handles an estimated 85% of e-commerce in Iran. Egypt fashion e-commerce site Coterique now features 45 regional fashion brands reaching out to international markets. The Qatar e-commerce market is estimated to be QR8.44bn ($2.3 billion) and expected to grow quickly.
Tools & Tech Online Arab market grows by 23 percent
Payfort, the leading online payment service provider in the Arab world, has announced its third State of Payments in the Arab World report, offering up-to-date data and insights in the region's payment trends and consumer buying habits. Based on the seven key country markets studied, the region saw a 23 per cent increase in online payments during 2015, led by strong growth in Saudi Arabia and the UAE, showing 40 per cent and 24 per cent year-on-year growth respectively. Meanwhile, the report forecasts that the volume of online payments could increase nearly three times by the year 2020 to reach more than $69 billion of transactions per annum.
Payfort's State of Payments in the Arab World focuses on the seven markets that it operates in (Egypt, Jordan, Kuwait, Lebanon, Qatar, Saudi Arabia and the UAE), and the report tracks online payment transactions in the airline, travel, ecommerce (online shopping) and entertainment sectors.
The new report shows strong growth in online shopping across different sectors, with transactions in the airline sector increasing by 18 per cent from 2014 to 2015 and in the travel sector by 39 per cent. Via ttnworldwide.com
Regional e-commerce market grows 23 percent
Payfort has officially released the third edition of its yearly "State of Payments" report, revealing Arab consumers' payment trends and online behavior. Regionally, the online market size has increased 23.3 percent, with Saudi Arabia leading the way.
Saudi Arabia's growth in online market is due to the rise of e-commerce market in the country, especially when it comes to online travel bookings. The UAE and Egypt came in second in terms of growth. Lebanon and Qatar have witnessed the lowest growth in online market size.
People across the region are slowly starting to accept e-commerce transactions (including online payments) with a dramatic increase in the acceptance ratio regionally. Via stepfeed.com
E-commerce in the Middle East to experience a significant surge during Ramadan, says SOUQ.com
According to Google data, online deals and Ramadan promotions were among the most popular search topics during the holy month in 2014 and 2015. In 2015, SOUQ.com witnessed significant growth in m-commerce and app purchases during Ramadan reiterating that mobile devices are used more often than any other device in the region and more so during Ramadan.
The online traffic in the UAE was at its peak between 11am to 4pm whereas in the KSA it was particularly high during 9pm to 4 am and 2pm to 4pm. While consumer electronics category was leading in terms of sales, SOUQ.com also experienced a phenomenal increase in number of lifestyle products sold especially via its increasingly popular mobile app. This trend was emphasized more towards the last week of Ramadan when consumers are looking for Eid al-Fitr gifts. Google data also reported a peak in search interest for perfumes and celebratory clothes for the holiday during the festive period.
Saleem Hammad, General Manager of Souq.com comments, ''Ramadan has always been an exciting period for SOUQ.com and we will continue to fulfill the increase in consumer demand. Last year, we saw an increase in online consumer spending by 24% in the U.A.E and 15% in the KSA during Ramadan and we expect similar uplift this year. We observed a huge increase in new users for categories such as consumer electronics, and a pattern of repetitive buying for fashion and lifestyle products. Today's tech savvy consumers understand the advantages of shopping online such as convenience, competitive pricing and a greater variety. Via albawaba.com
State of eCommerce in the Middle East – Indivirtual Dubai
In 2012, $3.2 billion was spent by online shoppers in the GCC alone. Combined with an eagerness to spend, and a desire from regional consumers to embrace 'newness', now is the perfect time to realize the potential of the Middle East Shopper.
PayPal has relatively recently joined the party and they recently released some statistics based on their research in the region:
–  There are 110 million internet users in the Middle East and North Africa, of which 30 million are shopping online already. PayPal estimates a total population of 350 million.
–  Spending online in the Middle East and North Africa was $9 billion in 2012 and is forecast to grow to $15 billion by 2015, of which $3 billion will be spent on mobile, up from the $500 million spent today.
–  Travel tickets are currently the biggest spend for online shoppers in the Middle East, with an average of $1,521 spent each year, followed by $250 on consumer electronics. Via indivirtualdubai.com
Turkish E-commerce Startups Bet on Enviable Demographics
When Demet Mutlu dropped out of Harvard six years ago to found an online fashion retailer in her native Turkey, friends thought she was crazy to leave the world's top business school for a leap into the unknown.
But more than her chutzpah, it is the 34-year-old's unshakeable faith in the young Turkish consumer that seems to be paying off: her company, Trendyol, is now one of Turkey's best known online fashion retailers and has drawn backing from foreign investors.
Last year, Trendyol had sales of 550 million lira ($188 million). While that represents just 2 percent of Turkey's fragmented e-commerce market, Trendyol is growing fast and Mutlu expects sales to almost double to 1 billion lira this year and grow another 50 percent in 2017. Via haaretz.com
As sanctions lift, Western companies can meet a thriving Iranian e-commerce industry
Despite the perceptions from many outside of the country, Iranians haven't been twiddling their thumbs, waiting idly all these years for sanctions relief. The country has long since accustomed itself to be self-sufficient, and the e-commerce industry in Iran is no exception.
Over one-third — or 39 percent of Iranians — are shopping online at least once a month, according to our latest study. 1,132 respondents completed the survey between January 23 and 28. For foreigners looking to enter the country, it's clear that e-commerce could be a huge target for investment dollars.
Twenty-three percent of Iranians are shopping online at least once a month, 16 at least once a week, and 5 percent are doing so on a daily basis. When we asked what products they have purchased in the past 3 months, apps and digital (34 percent) came at top followed by travel tickets (27 percent), games (23 percent), and electronics (22 percent). Via techcrunch.com
From Digikala to Hamijoo: the Iranian startup revolution, phase two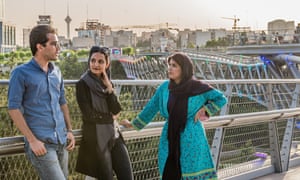 Participants from Iran include Digikala, an online e-commerce platform, which has become the biggest in the Middle East with around 750,000 unique visitors per day and is estimated to be worth $150m. Also participating is Aparat, an Iranian version of YouTube, Takhfifan (a Groupon-type website) and smaller startups such as Mamanpaz, which offers real home cooking to its online customers.
Prominent Silicon Valley investor Dave McClure, who is the founder of 500 Startups and a former investment director of the Facebook's fbFund, will be attending. He is impressed by the list of startups that iBridges has put together. "Like many emerging economies, Iran has a large population, one which is substantially educated and has a large entrepreneurship potential," he says. "If the country opens up and relations are restored with the US and other parts of the world, I think there is going to be a lot of economic growth. Definitely there are many interesting possibilities for tech startups, too." Via theguardian.com
Egypt's Coterique provides a platform for emerging designers
Coterique was formed in February 2013 by now-21-year-old Dana Khater, and is a platform allowing users to discover and buy from emerging fashion designers from around the world. The site currently has 45 designers from 15 cities, including markets as diverse as Mexico, the Philippines and Lebanon, and has rolled out an ambassador programme consisting of 16 ambassadors in five different cities.
Khater is currently shuttling between Dubai and London raising a funding round for Coterique, with the startup looking for US$400,000 to grow its portfolio of designers, host several pop-up events around the world and build new technologies to help it scale more efficiently.
"We noticed a gap whereby a lot of the retailers stock US, British, French and Italian brands, while the Middle Eastern and Asian brands weren't getting any attention," she told Disrupt Africa. Via disrupt-africa.com
E-commerce market set for a surge in Qatar
The e-commerce market size in Qatar is estimated to be QR8.44bn ($2.3 billion) in 2014, with the business-to-consumer (B2C) market contributing 44% and the business-to-business (B2B) market contributing 56% – QR4.73bn ($1.3 billion).
According to "Qatar's ICT Landscape 2014: Households and Individuals", one out of five general mainstream individuals reported purchasing or placing orders for goods and services online.
The global e-commerce market is booming. The move from traditional brick-and-mortar stores to electronic commerce (e-commerce) opens up new markets and opportunities for business establishments and offers customers access to new products across geographical boundaries. Via gulf-times.com
That's it for our look at e-commerce and the Middle East. Enjoy your weekend and we'll be back with more e-commerce, cashback, mobile commerce and venture capital news on Monday.