It's time for a quick update on US retail news, trends and innovations. There are lots going on from apps and Amazon to e-commerce results and holiday sales projections. So let's get started. What's ahead for holiday shopping this year? Deloitte says US holiday retail sales will grow 4% and  e-commerce 19% in 2016. RetailNext forecasts slightly lower retail sales growth of 3.6% and e-commerce sales up 15.9%. According to the US Department of Commerce, retail sales in August declined slightly by 0.3%, the first since March of this year.
The Internet of things may be one of the newest trends to impact how consumers shop online and in-store according to the report in Business Insider. While its competitors are shrinking or closing, Dick's sporting goods is growing thanks to the popularity of athleisure wear. Burberry's is setting a new trend in fashion by trying to sell its new lines instantly from its Fashion Week launch. Miami is currently the hottest retail market in the US with average sales of $768 per square foot.
Apple opened three newly refurbished stories with its new iPhone 7 launch. More than 400 US and 300 worldwide Aeropostale stores were saved from closing thanks to a $243 million deal to save the retailer by a consortium of property investors and landlords. On the other hand, another 64 Kmart stores will get the axe and liquidations started this week. When a big anchor retailer like Macy's closes, shopping center owners have to get creative like Irvine Co in Irvine, CA which decided to look for 20 smaller retailers to replace Macy's.
Holiday US retail sales to grow, but big chains will be getting a smaller piece according to new forecast
US retail sales will grow about 4 per cent this holiday season, buoyed by a better job market, according to a forecast by Deloitte LLP. Still, the news isn't all good for big retail chains.
Consumers are increasingly buying gifts at niche retailers, potentially pulling spending away from places like Wal-Mart Stores Inc. and Macy's Inc., Deloitte said in an annual report released on Wednesday. Upstart companies — think Bonobos or Fabletics — have collectively steered $200 billion in annual sales away from big chains over the last five years, the consulting firm estimates.
"You've got a lot of small startups that are nibbling away a little bit of the volume at a time," said Rod Sides, vice chairman of Deloitte. "Everyone's worried about the Amazon effect and those kinds of players, but at the end of the day, it's the smaller websites that focus on a specific product category and whittle away at market share."
The shift means traditional retailers will have to work harder over the holidays to entice customers. Even so, gains in wages and disposable income will help put more money in shoppers' wallets. Excluding motor and gasoline purchases, sales may exceed US$1 trillion in the November-through-January season, New York-based Deloitte said. Via business.financialpost.com
U.S. Retail Sector Already Gearing Up for Holiday Season
Although the leaves are just starting to change color and fall from the trees, the first forecasts of 2016 holiday retail spending and hiring came out this week. On Thursday, RetailNext announced its forecast for 3.2 percent growth in overall retail sales. (This number excludes automobiles and gas.) Given the nation's 4.9 percent unemployment rate, businesses are facing a competitive hiring environment. This has caused some large retailers to already make hiring applications available online. Retailers like Toys "R" Us and Target have announced holiday hiring plans, with the latter planning to hire 70,000 temporary employees for the holidays.
Positive economic indicators support people's ability to spend during this holiday season: job growth has been strong, wages are rising, and unemployment is low. All of these factors add up to people with paychecks and money to spend for the holidays. Low oil prices mean less money spent on gas and heating, which facilitates greater spending during the holiday season. Low interest rates also support retail expenditures.
Brick-and-mortar stores will benefit from holiday spending, but robust growth is not expected at those outlets. Target's goal of 70,000 temporary workers is the same mark it targeted in 2015. The RetailNext forecast included an 11 percent decline in sales at brick-and-mortar stores in November and a 5 percent decline in December.
Instead, warehouses and call centers will be bigger beneficiaries of holiday spending this year. The RetailNext forecast calls for a 14.9 percent growth in online sales. These estimates are in line with recent e-commerce statistics. According to the U.S. Census Bureau, e-commerce sales gained 15.8 percent between the second quarters of 2015 and 2016, and accounted for 8.1 percent of total sales. Via urbanland.uli.org
U.S. Retail Sales Fell in August
U.S. retail sales declined in August, a cautious signal about consumers' ability to remain the primary driver of economic growth this year.
Sales at retail stores, online and at restaurants fell 0.3% in August to a seasonally adjusted $456.32 billion last month, the Commerce Department said Thursday. It was the first decline in retail sales since March. Sales increased 0.1% in July, a small upward revision from an initial flat reading.
Excluding autos, retail sales last month fell 0.1%. Economists surveyed by The Wall Street Journal had expected overall sales would fall 0.1% in August, but rise 0.2% when excluding autos. Via wsj.com
IoT in Retail & Ecommerce: Market Trends Shaping Our Shopping
E-commerce is growing every year and shows no signs of slowing down.
E-commerce sales in the U.S. eclipsed $97 billion during the second quarter of 2016, which marked almost nearly 16% year-over-year (YoY) growth, according to the U.S. Department of Commerce. This was the greatest YoY increase since Q3 2014.
More importantly, U.S. e-commerce growth has regularly outpaced the total retail market over the past six years, and e-commerce made up 8.1% of the total retail market in Q2 2016, up from 6.4% two years earlier.
But even with this growth, there is still plenty of room for aggressive expansion, and the Internet of Things (IoT) can take e-commerce to the next level. Those who are involved in the retail and e-commerce industries must stay on top of this trend in order to stay ahead of the competition. Via businessinsider.com
Dick's Sporting Goods shares surging
Dick's Sporting Goods is running out of competitors — and that's great news for the retail chain. Many of the brand's rivals have fallen on hard times, says Paul R. La Monica at CNN Money.
Sports Authority and Sport Chalet have gone out of business amid an overall downturn in the athletic equipment industry, and Golfsmith recently filed for bankruptcy.
There are myriad reasons for the downturn in the athletic equipment industry. Cash-strapped millennials aren't interested in buying golf equipment and would prefer to spend their limited funds on electronics instead. And when people do buy sports equipment, they increasingly prefer to do so online. Via businessinsider.com
From catwalk to checkout: how Burberry is trying to reinvent retail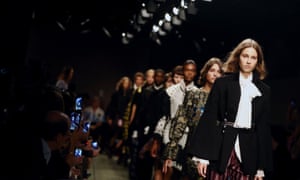 As Burberry models wafted down the catwalk at London fashion week in outfits inspired by Virginia's Woolf's Orlando, it wasn't the ornate drummer-boy jackets and ruff-collared shirts that stole the show.
The hottest runway trend was instant shopping, as the British brand turned its catwalk into a living and breathing shop window. Fans were suddenly able to buy the equestrian-inspired leopard-print bridle bags or shearling jackets that previously they could only have coveted on social media straightaway – albeit for price tags larger than the average monthly mortgage payment.
"I think this can be seen as significant in the sense that when Burberry said it was going to do this, it was essentially rewriting how things are done [in fashion] and the point of a traditional catwalk show," says Graeme Moran, head of content at the fashion-industry bible Drapers. Via theguardian.com
Miami Retail Market Hot
Despite a general consensus that the retail market is slowing across the country, Miami's retail scene is still hot, a group of experts said on Wednesday.
Retail sales per square foot are the highest nationwide, at $768 per square foot, Kristin Mueller said at the CREW-Miami Redevelopment in Miami: Retail luncheon event held at the Four Seasons Miami.
Vacancy is at 3.1 percent in Miami compared to 3.7 percent in Manhattan. Rents average $32 per square foot compared to $88 a foot in Manhattan and $15.50 per foot across the country, Mueller, COO of retail at JLL, said. She called Miami "one of the most coveted retail markets in the U.S.," especially as a tourism destination. Via therealdeal.com
Apple to reopen three US retail outlets in tandem with iPhone 7 launch
Apple is preparing to reopen three retail stores on Friday after months of renovations, sprucing them up just in time for the launch of the iPhone 7.
The outlets include Park Meadows in Lone Tree, Colo., Ridgedale in Minnetonka, Minn., and Fashion Mall at Keystone in Indianapolis, Ind. All three will open at 8 a.m. local time, and are coincidentally relocating to bigger spaces within their respective shopping malls.
The company is presumably taking the opportunity to upgrade the stores to its current fashion-oriented design, with touches like wooden shelves, large glass doors, and massive video displays. Via appleinsider.com
Aeropostale to keep 400 stores
Aeropostale has been rescued from liquidation by a consortium of vendors, liquidators and mall operators that now say a higher number of stores than expected will remain open.
In addition to the 229 stores originally identified, another 171 locations will stay open thanks to a deal struck by the consortium with landlords that will reduce rent on the properties.
On Monday, the court approved the purchase of Aeropostale by the group that includes General Growth Properties, Simon Property Group and Authentic Brands Group. The group bid $243 million for the retailer and had planned to close hundreds of stores. Given the new arrangement, Aeropostale will keep 400 stores open in the United States and Canada, and another 300 stores worldwide. Via fierceretail.com
For Sears and Kmart, it just gets worse
And now, Kmart. The troubled retailer announced this week that it was closing 64 stores nationally. Liquidations began Thursday.
While only one store will be affected in the Pennsylvania/New Jersey/Delaware region – in far-off Mifflin County, Pa. – the news is more of the same for struggling retailers amid online shopping's encroachment.
Several, including Sports Authority and Pacific Sunwear of California, have recently filed for bankruptcy, and profitable retailers are closing underperforming stores. Via philly.com
How does a mall cope when a big tenant like Macy's closes?
Like many mall owners, Irvine Co. recently got troubling news: A big tenant at its Irvine Spectrum Center, a Macy's department store, would close in early 2016. But instead of looking for a new tenant, Irvine Co. is looking for 20 of them.
As part of a $150-million overhaul of the open-air shopping mall, the two-story Macy's building has been demolished to make room for a collection of smaller merchants. Irvine Co. representatives didn't want to talk about the Macy's pullout, but in January called it "a unique opportunity to rebalance" the retail center.
Landlords nationwide are facing similar challenges because several struggling chains have trimmed their store rosters or gone out of business. Via latimes.com
Retail run-up to holiday sales
We'll keep you current on retail sales trends as we get closer to Black Friday and the impact of e-commerce which is expected to be strong again.