It's time to see how our UK retail colleagues are doing. What are the trends, who's having success and who is falling further behind their competitors? We've got it all in today's UK retail news roundup. 75% of UK consumers will do the majority of their shopping online by 2026 according to a new report from Savvy Marketing for the BBC. Mintel says 48% of Brits shop for groceries online and forecasts UK online grocery shopping in 2016 will reach $14.2 billion up 13% from 2015. Wage, rapidly changing consumer demands and EU referendum uncertainty  is dampening optimism among senior executives with UK retailers according to PWC.
A report by Barclaycard says 22% of UK retailers are not selling online partly due to cost of shipping e-commerce goods and returns.  Criteo says 48.9% of UK e-commerce transactions now take place on mobile devices, up 6% year over year. Liquidation and closure of 163 BHS stores will cause the loss of more than 11,000 jobs according to The Guardian. A story in the Telegraph also chronicles the downfall of BHS.
"Serial returners" are a big burden on fashion brands, costing an estimated $138.4 million annually, when shoppers return items and stores must cover postage, processing, storage of clothes and preparation for re-sale. With 3,800-plus outlets, the UK Post Office is now the country's largest retailer. Marks and Spencer shuts off in-store music and millions of shoppers are in tears about losing their favorite boy bands while they shop. Other customers are ecstatic.
Report: 75% of U.K. Consumers will do the Majority of their Shopping Online by 2026
While global online revenue still hovers around 10 percent of total overall retail sales, a new report suggests consumer demands will change that in a hurry. The survey focused on U.K. consumers and found the 95 percent who have Internet access have shopped online at least once within the past six months. And, 75 percent believe they will do the majority of their shopping online within the next 10 years.
"The retail world is playing catch-up with how today's—and tomorrow's—shoppers are wanting to interact with them," said Alastair Lockhart, insight director for Leeds, England-based marketing research firm Savvy Marketing, which conducted the survey for the BBC. "The tech savvy generation have high expectations and retailers need to inspire shoppers both instore and online whilst providing all the necessary product information to help convert sales."
Laptops are still the main way consumers engage with e-commerce—76 percent of U.K. consumers polled said they use one to shop online—but younger consumers are engaging more often using smartphones. Among 18-24 year olds, 74 percent said they use a smartphone to shop online. Via cardnotpresent.com
29% of UK online grocery shoppers are shopping for groceries more online now than a year ago
The days of heading to the supermarket are over for some Brits as they trade trolleys for home delivery. Indeed, new research from Mintel reveals that 29% of UK online grocery shoppers are shopping for their groceries more online now* than 12 months ago.
And online tills are ringing as a result, with online grocery sales forecast to reach £9.8 billion ($14.2 billion) in 2016, up 13% from an estimated £8.6 billion ($12.4 billion) in 2015. What's more, sales are forecast to grow a further 73% to reach £15 billion ($21.7 billion) by 2020. Online-only grocery retailers are particularly benefiting from sofa surfing, with sales increasing 110% from £1.1 billion in 2010, to an estimated £2.3 billion in 2015. Currently, online grocery shopping accounts for 6% of total grocery sector sales in 2015, up from 3% in 2010.
Today, as many as half (48%) of Brits are current online grocery shoppers. One in ten (11%) do all of their grocery shopping online, with a further 12% doing most of their grocery shopping online. And it is younger consumers that are shunning the supermarket trip: one fifth (19%) of 25-34 year olds now doing all of their grocery shopping online, with 36% of this group shopping for groceries online more often now than 12 months ago.
The main reason consumers cite for shopping online more is convenience, with 60% of Brits who are shopping more online doing so because it is more convenient than visiting stores. This is followed by the fact that online shopping allows consumers to keep better track of how much they're spending (33%) and the wider variety of delivery slots available (32%). Via mintel.com
Retail optimism shrinks as mounting costs take toll on high street
The triple burden of higher costs linked to the living wage, rapidly changing consumer demands and uncertainty surrounding the EU referendum is dampening optimism among UK retailers, a new survey shows.
Red tape and cyber threats were also identified as factors that could harm potential growth prospects, according to PwC.
Its survey of 37 chief executives of supermarkets, fashion and home retailers employing nearly one million staff showed just 29pc of respondents were confident about prospects for the UK retail and consumer sector over the next six months. In contrast, 60pc said they were optimistic about the outlook over the next three years. Via ft.com
UK retailers are concerned about shipping costs for e-commerce
Retailers in the UK are hesitating to open up e-commerce shops over concerns related to handling shipping costs — particularly for returns, according to a report from Barclaycard cited by InternetRetailing.
In fact, 22% of retailers actively choose not to sell online because of the delivery and returns process, despite the rise in e-commerce sales in the UK.
Specifically, these fears are being compounded by "serial returners" — consumers who purchase more than they actually need online with the intention of returning what they do not like or what does not fit Via businessinsider.com
United Kingdom : Half of UK e-commerce transactions on mobile devices
Paris-headquartered performance marketing technology company Criteo has revealed that almost half (48.9 percent) of all UK e-commerce transactions now take place on mobile devices, up six per cent year-on-year.
As mobile continues to transform the retail environment in the UK, Criteo's latest data is released with a new Ovum report, "The Future of E-commerce: The Road to 2026" exploring the journey towards mobile-centric retail and the steps UK businesses should be taking today to maximise success.
Criteo's new UK mobile commerce findings – part of the company's study of 1.4 billion online transactions – also reveal that in Q1 2016 iPhones have now leapfrogged iPads as the UK's primary device for mobile commerce. A fifth (19 per cent) of all UK e-commerce transactions now take place on iPhones, up seven per cent in the year following the launch of Apple Pay. Almost four in ten (39 per cent) UK e-commerce transactions now involve multiple devices along the path to purchase. Via fibre2fashion.com
BHS rescue bid fails with loss of 11,000 jobs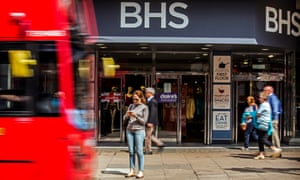 BHS department stores are to disappear from British high streets after almost 90 years, with 11,000 workers losing their job.
In the biggest failure in the retail industry since the demise of Woolworth's in 2008, the administrators to BHS will wind down the business and close its 163 shops after a rescue deal fell apart. The liquidation of BHS will crank up the pressure on Sir Philip Green and Dominic Chappell, the former owners of the retailer, who have left BHS with a £571m ($824.7 million) pension deficit.
Green and other investors collected more than £580m ($837.7 million) in dividends, rent and interest payments during his ownership of BHS, while Chappell's consortium Retail Acquisitions was paid millions in salaries and management fees. Anna Soubry, the business minister, said the government will take any misconduct in the demise of BHS "extremely seriously". Union leaders called the news a devastating blow for staff. Via theguardian.com
BHS was a case study in how notto be a retailer in the 21st century
BHS sits in a dominant 1960s building at the top of Fishergate, one of the city's main shopping streets. It occupies the space of five "normal" shops on the high street, stretches back an entire block, and takes up two floors.
Yet even back in the 1980s, when I was of primary school age, it wasn't busy. Since that time the store and the company that operated it have been through a number of revamps and changes of image and changes of stock. But then as now, its importance to most locals is to provide a sizeable veranda under which to shield from the inevitable Lancashire rain, and to supply public conveniences to replace those long since closed by the city council.
After yesterday's news that the assets of BHS will be wound up, that store, like others, will now close for good, destined to be carved up into smaller units. Via telegraph.co.uk
'Serial returners' blamed for rising womenswear prices
Women sending clothes back may be to blame for gender price divide in shops, retail analysts say, as research shows that two-thirds of women return online purchases.
It has emerged that so-called "serial returners" are placing an increasing burden on fashion brands and are likely to be a major reason behind retailers pushing up prices for certain groups. When shoppers choose to return items outlets must cover the cost of the postage, processing and storage of clothes and then prepare them for re-sale.
This process, known in the fashion industry as "reverse logistics", cost the UK shops a total of £95.8m ($138.4 million) in 2013, according to Columino, a retail analyst. This cost is expected to have risen considerably since then as a surge in smartphone usage has led to shoppers making more impulse purchases. Via telegraph.co.uk
Post Office becomes UK's biggest retailer open on Sundays
The Post Office has revealed that it is now the UK's largest retailer open on a Sunday, with 3,800 branches trading seven days a week.
A recent transformation of the business has resulted in thousands of sites offering longer opening hours with the number open on Sundays up by 1,000 since 2013.
Research by the postal retailer found that nearly a third of people are more likely to use their local branch if it was open on a Sunday. Via retailgazette.co.uk
Marks and Spencer switches off music in store
UK retail-giant Marks and Spencer has delivered a death knell for fans of Jack Johnson and ageing boy bands by announcing they will switch off their in-store music to allow people to shop in peace.
Silence has already descended across 300 of the brand's clothing and homeware stores across the UK.
A spokesman for the company said it's in response to customer feedback that showed an aversion to the pre-recorded or "piped music" dominating the in-store environment. "We're focused on putting the customer at the heart of everything we do, this decision is the result of extensive research and feedback from our customers and colleagues," he said. Via news.com.au
Retail rules; it's just different now
Stay with us at Cashback Industry News as we continue to cover retail and e-commerce news around the world. We've always got unique retail market perspectives and news roundups you can use to enhance your strategic business, marketing and investment strategies. Subscribing at the top of the page gets you news you can use in your inbox for free, every weekday morning.