As if US retail didn't have enough challenges at hand, along comes Brexit to add further turmoil and uncertainty. Today we set the table for a look at US retail after Brexit and some of the recent innovations as retailers struggle to compete. US retailers need to keep an eye on global events. The UK and EU markets are important for US retail and e-commerce. For UK consumers after the devaluation of the pound, foreign products are now immediately more expensive. For global consumers, the drop in the value of their investment portfolios may make them less willing to spend on products at home and abroad. And US consumers? They're just not spending as much in-store. So, let's take the temperature of US retail today.
Credit Suisse looks at how consumers may be impacted by market losses, devaluation and how home improvement and auto parts are strong segments. Burlington Stores, Ross Stores and The TJX Companies are potentially "Amazon-proof" according to The Motley Fool investment newsletter. USA eShop is finding success helping small US companies selling into the EU market. Industry City retail development has invested $160 million renovating the sprawling former industrial complex in Sunset Park, Brooklyn, into a home for creative manufacturers, startups and artisans.
Chain Store Age profiled Wayfair Next, the in-house innovation lab in the Boston headquarters of online home furnishings retailer Wayfair Inc. Indigo Home is an innovative mobile store like a food truck that sells throw pillows and home decor instead of lunch at corporations, festivals and other events. Banana Republic Factory is testing a mobile rewards program called Perks! at 40 stores, engaging customers via digital loyalty, chat and AI.
While retailers try to prepare a response, Amazon will unveil its second annual Prime Day promotion in July though it is keeping the actual date a secret. Goldman Sachs says mobile sales will reach the same level as all of e-commerce in 2013 — $630 billion in sales — by 2018. PwC and other analysts say Brexit will impact UK and global retailers in the short-term but long term remain mostly positive. That's an encouraging sign, with all of the challenges ahead for retail.
Brexit Can Still Impact Hardline Retailers. Here's How
Credit Suisse's Seth Sigman and his team take a look at hardline retailers Monday, a sector that has minimal direct exposure to Europe and as such should feel less Brexit pain.
Still, Sigman warns that while investors may flock to these stocks because they aren't as exposed to Europe, that doesn't mean they're entirely insulated. Certainly, while they aren't as exposed as softline retailers, they will still feel the indirect effects of the UK's decision, and there's a chance that overseas volatility could hurt the stocks, as China-led fears did earlier this year.
Sigman writes there are three trends that investors have to be mindful of in a post-Brexit world when considering these stocks: First, that the U.S. consumer could still be hurt by big shifts in the stock market, that interest rates will probably stay lower for longer, and a U.S. dollar will remain strong. He writes that the safest areas are home improvement and auto parts. From the note: Via blogs.barrons.com
3 Thriving Amazon-Proof Retailers
Despite the struggles of some retailers, sales in the industry are actually looking positive. On June 14, the U.S. Commerce Department reported surprisingly strong May numbers as retail and food service sales increased 2.5% over last year. Year to date, total retail sales are up 3.2% over the same time period in 2015.
Despite the positive results, the share prices of many retailers have not kept pace. The SPDR S&P Retail ETF, an ETF which offers broad exposure to the US retail market, is down 17% for the year, lagging the S&P 500, which is essentially flat.
However, three brick-and-mortar companies have defied the odds. Burlington Stores (NYSE:BURL), Ross Stores (NASDAQ:ROST), and The TJX Companies (NYSE:TJX) — which operates TJ Maxx, Home Goods, Sierra Trading Post, and Marshall's — are firing on all cylinders. Delivering positive comps, adding store locations, and increasing shareholder wealth are not exactly synonymous with publicly traded brick-and-mortar retailers these days, but these three off-price department stores are defying the trends. Via fool.com
Columbia-based e-commerce site delivering U.S.-made products to Europe
In the United Kingdom and across Europe, pet lovers can take home delivery of custom-made Cozy Cave Dog Beds and other high-quality U.S. pet items from Snoozer Pet Products in the tiny Upstate town of Piedmont.
European shoppers can also enjoy the comfort and colorful style of functional, fashionable boot socks from South Carolina's JoJoSox, designed by a mother and daughter team in Orangeburg.
And let's not forget the benefits and taste of tea grown on South Carolina's coastal Wadmalaw Island by the Charleston Tea Plantation, also shipped overseas to waiting European customers.
For these small S.C. manufacturers and many others across the country, USA eShop opened the door to the $183 billion U.S. export market. But the U.S. imports more than $220 billion in goods each year, leaving a $37 billion annual trade deficit, according to U.S. Commerce statistics. Via thestate.com
Industry City adds more retail space to its complex, draws flower shop Rose Red & Lavender, Moore Brothers Wine Company and others
Over the past three years, the owners of Industry City have spent $160 million renovating the sprawling former industrial complex in Sunset Park, Brooklyn, into a home for creative manufacturers, startups and artisans.
Now a partnership between Jamestown, Belvedere Capital and Angelo Gordon is ushering the 6-million-square-foot waterfront property into its next phase—a retail hub. In recent months, the owners have invested $8 million in constructing a 1,200-foot-long public corridor, lined with retail space, that will run through the center of nine of the complex's 16 buildings. The corridor will span 37th to 33rd streets, between Second and Third avenues.
The passageway, dubbed Innovation Alley, is slated to be completed next year. When it is finished, it will feature about 125,000 square feet of of new retail. Rents for the spaces range from $35 to $80 per square foot.
A handful of tenants have recently leased space along the alley: Flower shop Rose Red & Lavender will move into 1,500 square feet, Moore Brothers Wine Company took 2,500 square feet, and Steampunk, a maker of espresso and coffee machines, signed on for 4,000 square feet. Steampunk will use the space for a coffee bar and a manufacturing space, where it will assemble and sell its product line. Via crainsnewyork.com
Q&A: Wayfair travels ahead of the IT curve
Chain Store Age recently visited Wayfair Next, the in-house innovation lab in the Boston headquarters of online home furnishings retailer Wayfair Inc. Steven Conine, co-founder of Wayfair and Mike Festa, director of Wayfair Next, discussed the lab's mission and the importance of innovation in retail.
What made you decide to launch Wayfair Next?
SC: We have a large engineering group and have always been a strong innovator as a company. There is a bunch of new technology coming along in its infancy it would be a disaster not to have mastered a year from now. We want to make sure we are in front of the pack, rather than running after new technology for marketing and selling products online.
Are there particular new technology areas Wayfair Next focuses on?
SC: The main areas where we are focused are 3D, virtual reality (VR) and augmented reality (AR). It's easier to shop for your home from your home – you need to be in the space you want to buy products for. We are not really influenced by anything other retailers are doing. Via retailingtoday.com
Mobile boutique takes home decor shopping on the road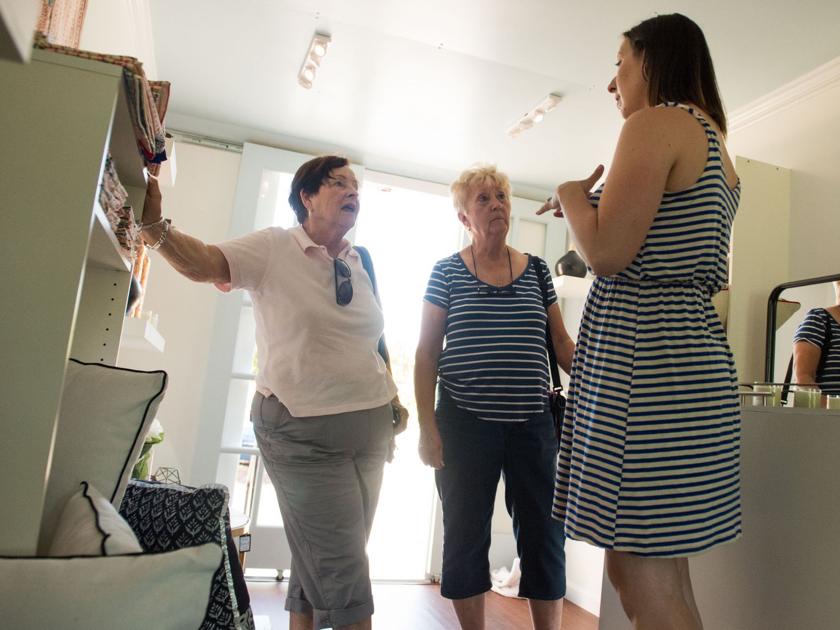 A new way of shopping for home decor items is pulling up to a parking lot near you.
Michael Peterson and Jennifer Saputo-Peterson of Maryland Heights recently finished converting a delivery truck into a mobile boutique packed with candles, artwork by local artists and other housewares for sale.
The business, which they've named Indigo Home, is like a food truck that sells throw pillows instead of lunch. Plans are to make the rounds at corporations, festivals and other events, where a revolving assortment of home decor merchandise, from picture frames to vases, will be offered. Via stltoday.com
Banana Republic Factory pilots mobile loyalty, chat to enhance in-store shopping
Banana Republic Factory is testing a mobile rewards program called Perks! at 40 stores to enhance the in-store shopping experience by engaging with customers via digital loyalty, chat and AI.
The value-priced apparel and accessories chain, a division of Gap Inc., is working with third-party loyalty and customer experience platform flok for the test. It kicked off on Father's Day, with customers who have the flok app now able to engage with the retailer while at a store to enhance their shopping experience.
"In order to strengthen its position in the value space and to continue to provide tangible benefits to loyal customers, the company has teamed up with flok – a powerful loyalty and customer experience platform – to test a new rewards program called Perks!" Via mobilecommercedaily.com
Amazon makes it harder for retailers to ride Prime Day's coattails
Amazon will once again unleash a barrage of eye-popping deals in July for its second annual Prime Day promotion and savvy retailers are preparing now for an expected surge in traffic even as the ecommerce giant takes steps to prevent competitors from riding on its coattails.
While Prime Day will be repeated in mid-July, no official date has been announced yet, making it difficult for retailers to launch their own promotions to coincide with Amazon's and benefit from the excitement. Not letting consumers know until the last-minute when the event will take place will also likely make the already mobile-driven promotion even more smartphone dependent.
"It remains to be seen how other retailers will fare from Prime Day 2016," said Jon Reily, vice president of commerce strategy at Razorfish. "Since a date has not yet been announced, the opportunity for other retailers to react in a timely fashion will be more difficult. Via mobilecommercedaily.com
Retailers Respond to Changing Digital Shopping Habits
Since 2007, however, smartphone use has increased, with Pew Research reporting that about two-thirds of all Americans had one as April 2015. Because of that and the explosion in app usage, buying things on your phone is no longer ridiculous, it's becoming the norm. Because of that, retailers led by Target (NYSE:TGT) have shifted their sales focus from the web to mobile devices.
"'Mobile First' is the mantra of 2016, and retailers are slowly accepting this by designing their mobile experience before their desktop," Amit Bhaiya CEO of DotcomWeavers, a web development/design company told The Motley Fool via email. "Most of the shoppers at Target will be millennials, and the way this audience behaves is to shop through mobile first."
Bhaiya also noted in his email that Goldman Sachs predicts that mobile sales will reach the same level as all of e-commerce was at in 2013 — $630 billion in sales — by 2018. "And according to Nielsen, nearly 20-30% of all retail sales across the United States are in some way influenced by mobile." Via fool.com
Retail industry analysts cautiously respond to Brexit vote
PwC's retail and consumer lead Madeleine Thomson said as the UK enters a transition period, the impact of Brexit on retail "remains to be seen".
"Whilst we may see a short-term impact in consumer confidence, most businesses will have a contingency plan in place and there is no reason why long-term success should be impacted by the referendum outcome," she said.
According to research undertaken by PwC recently, 43% of respondents said their business and growth plans were not dependent on staying in the EU.
On the other hand, Thomson said the main concerns of CEOs were the rise in prices, a squeeze in margins and the impact on EU imports.
Roberto Lobue, a partner at Menzies, said the Brexit result would likely lead to a "disruptive time" for the retail industry with uncertainty in long-term contacts, taxation, the continued employment of EU citizens, and other areas. Via retailgazette.co.uk
Retail responds to challenges
The retail industry is remarkable for its innovation and ability to survive in such disruptive times. We'll continue to bring you timely retail and e-commerce news from around the globe. If you'd like news highlights like these in your inbox Monday-Wednesday-Friday mornings, just subscribe at the top of the page.