The e-commerce industry is not short of innovation when it comes to logistics. Today, we're looking at the world of drones and who's testing their delivery potential in the race to get online purchases to the consumer's fastest. While Amazon is an early leader in testing drone deliveries, there are many other companies putting them in the air as well.
Amazon and the UK government are testing drone delivery of small packages less than 5 pounds which make up 90% of Amazon's orders. 7-Eleven and drone delivery company Flirtey partnered to deliver the first legal drone delivery of products ordered online from a US retailer. Yes, a Slurpee was included. Walmart is ready to test drones in its warehouse inventory control and planning to test home deliveries in the near future.
While Amazon tests drone deliveries in the UK, the FAA releases comprehensive drone regulations without much detail on e-commerce deliveries. Don't hold your breath for drone deliveries in the US anytime soon. Not to be out done, JD.com is testing two types of drones for package deliveries up to 32 lbs in China. FedEx and DHL hold 50% of the $146.14 billion global logistics market but TMR says new companies like Gati Limited and Clipper Logistics Plc bear watching.
With technology investments more than $1 billion, UPS is big on data, drones and robotics. PFS Web reports on four technologies impacting e-commerce including drone and droid deliveries, virtual-reality goggles and smart refrigerators. Finally, we finish our look at the leading edge of e-commerce deliveries with a fascinating Amazon patent application that proposes lampposts as drone docking stations. Who knew?
Amazon to test drone delivery in partnership with UK government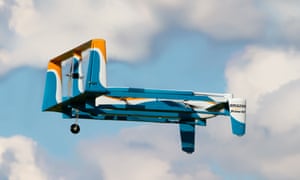 Amazon has announced that it will partner with the British government to run tests exploring the viability of delivery of small parcels by drone – the first time such tests have been run in the UK.
The company announced that a cross-government team supported by the Civil Aviation Authority (CAA) gave permission to Amazon to explore three key areas: operations beyond line of sight, obstacle avoidance and flights where one person operates multiple autonomous drones.
The experiment will look at drones carrying deliveries weighing 2.3kg (5lb) or less – which make up 90% of Amazon's sales, a company spokeswoman said. A representative for the CAA said that a priority during the tests would be making sure that drone delivery did not adversely affect other airspace users. Via theguardian.com
7-Eleven delivers by drone in Reno including, yes, Slurpees
7-Eleven Inc. and a tech startup called Flirtey have beaten Amazon to the punch in making the first drone delivery to a customer's home in the US.
Flirtey is a privately held company based in Reno, Nevada, which builds and operates drones to make deliveries that are needed in humanitarian and health work, retail and food industries. Rather than adapting existing unmanned aerial vehicles, Flirtey builds its own, develops the software to run them, and creates proprietary packaging and containers to keep items secure during delivery, according to CEO Matt Sweeney.
During the 7-Eleven delivery, which took place in Reno, Nevada on July 10th, Flirtey successfully transported: Slurpees, a chicken sandwich, donuts, hot coffee and candy to the home of the family who placed the order. Via techcrunch.com
Wal-Mart says it is 6-9 months from using drones to check warehouse inventory
The race for drone deliveries among eCommerce companies is getting tense with Walmart inching closer to its drone ambitions.
The retail giant said it is a mere six to nine months away from deploying drones for superior management of its warehouse inventories in the United States, Reuters reported.
Walmart's announcement comes after it applied for a license to test drones for end-to-end fulfillment of online orders in October last year. Its application to U.S. regulators sought permission for checking warehouse inventories, curbside pickup and home deliveries. While the Arkansas-based company got the go-ahead for using drones in its warehouse, it might still be a while before it gets to use the technology for fulfilling drone-powered home deliveries. Via reuters.com
FAA Nixed eCommerce Drone Deliveries
Consumer-facing drones definitely had their moment in 2015 with a crush of them appearing in the sky flowing by hobbyists' hands. However, commercial operators have largely been stymied by the lack of regulations governing who can and can't fly – and what they can and can't deliver by drones as well.
Now, the Federal Aviation Administration has published its first comprehensive drone regulations to date, and unfortunately for Amazon and other would-be drone shippers, that future is still some months and years away.
In fact, the FAA's rules hardly mention drones for delivery purposes, though a few key policies all but make the concept impossible. First, the drones mentioned aren't autonomous, but operated by a human pilot, and as such they must remain within the line of sight of said operator. All devices must also weigh 50 pounds or less, which would make shipping many items over a few pounds prohibitive. Drones are also restricted from flying over other humans unprotected by standing structures and cannot fly above 400 feet unless scaling a building taller than that height. Via pymnts.com
This Is What China's First Operational Drone Deliveries Look Like
Chinese e-commerce company JD.com has revealed the country's first operational pilot program for drone deliveries, as tech firms compete to reach the country's untapped rural consumers. A JD spokesperson confirmed with Technode that the company is using at least two types of UAVs to deliver packages between designated distribution centers in rural areas outside of Suqian in northeast China.
The drones are capable of autonomously loading and unloading packages, and a single flight route manages up to 200 packages a day. The company uses one type of drone for longer-distance deliveries and another to carry heavier packages over short distances.
Current deliveries are up to 15kg each, says the company, which is significant given Amazon's drone delivery trials are aimed at parcels less than five pounds (2.3kg). JD says the deliveries run over maximum distance of 20km and a top speed of 54km per hour, meaning the longest possible flight undertaken by the service is still under 20 minutes. Via technode.com
New Entrants Up the Ante in Global Ecommerce Logistics Market
In 2015, the global ecommerce logistics market was the playground of Fedex Corp. and DHL International GmbH, who collectively held sway over 50% of the business worldwide, according to a new report from Transparency Market Research (TMR).
The other two key players in this space are XPO Logistics, Inc. and United Parcel Service, Inc., but their reach isn't as wide as the two logistics behemoths. However companies are already upping the ante in anticipation of explosive growth of the ecommerce sector in India and China.
The global ecommerce logistics space is extremely attractive and will witness the rise of many new companies, TMR says. While large companies are investing in drones and last-mile connectivity to keep ahead, smaller firms are focusing on value-added differentiating services such as route optimization and innovative parcel tracking. These trends will make the ecommerce logistics market a space bubbling with innovation, TMR forecasts. Other companies to watch out for in ecommerce logistics are Gati Limited and Clipper Logistics Plc.
According to TMR, the global ecommerce logistics market reached a valuation of $146.14 billion in 2015 and will see a CAGR of 20.6% between 2016 and 2024. Via multichannelmerchant.com
'Technology company' UPS investing $1 billion a year in intelligent logistics
With its $1 billion-a-year investment in technology, UPS is empowering its intelligent logistics network with more efficient delivery routes that save money and reduce emissions while advancing such leading-edge tools as 3-D printing, drones and robotics.
"We really feel we are a technology company," said David Abney, chairman and chief executive officer of the global supply chain megafirm, which boasts fleets of more than 600 aircraft and 100,000-plus delivery vehicles – and an information technology network that can hold more than 20 quadrillion bytes of data.
"We have a lot of planes; we have a lot of trucks," Abney said at a June 30 gathering at UPS headquarters in Atlanta suburban Sandy Springs, Georgia. "But we really are a technology company." Via ajot.com
4 Emerging eCommerce Technology Innovations
As eCommerce technology continually evolves, customer experience is becoming increasingly essential to the conversion of sales. Some retailers are currently planning to create and sustain customer value by providing sophisticated digital experiences that deliver orders more quickly, blend physical and digital capabilities, and simplify ordering procedures.
Drones, droids, augmented reality goggles, and smart refrigerators are some of the more prominent innovations on the horizon that are expected to transform the eCommerce industry. Via pfsweb.com
Amazon patent proposes using lamp posts as drone docking stations
Lamp posts are a popular resting place for tired birds, but our feathered friends may soon find themselves with a little competition for these convenient perches. Amazon was awarded a patent for a drone docking system that would see its flying delivery robots come down to recharge on structures like street lamps and power poles before continuing onto their final destination.
Amazon filed the patent back in November 2014, describing a multipurpose system of docking stations that can be networked with a central control point and a fleet of drones. This came almost a year after the e-commerce giant first revealed its plans to deliver items in 30 minutes by autonomous drone through a robotic courier service called Prime Air.
Drone technology has made some big strides in that time, but range is still severely limited, particularly when taking a package along for the ride. This is the problem Amazon is looking to address with its multi-use drone docking stations, which it says could be installed on tall structures like street lights, cell and radio towers, office buildings and even church steeples. Via gizmag.com
Drones are leading edge of new logistics technologies
While all the cool kids, including Amazon, Walmart, DHL and others are testing drone deliveries, we expect new technologies to arise including droids, robotics and probably some brand-new, disruptive technologies yet to be invented. When it comes to logistics, Cashback Industry News has you covered. If you'd like the convenience of this newsletter in your inbox every M-W-F morning, just subscribe at the top of the page.