If there's one unmistakable truth about e-commerce, it's the impact of mobile on buyers, sellers and the need to ensure that mobile is a key part of every e-commerce omnichannel strategy. Today, we've got a roundup of news and insight on who's innovating and where mobile commerce is providing a competitive advantage to merchants online and off-line.
According to a study from Demandware, 60% of online shopping will be generated by mobile phones by the end of 2017. The American Marketing Association says growth in VR, social media marketing, and IoT are key drivers for e-commerce and retail in the future. Sears, yes the struggling retailer, launched an innovative mobile Pokémon Go promotion to help build new business. Time will tell if it works.
Cosmetics seller Mary Kay rolled out a mobile virtual assistant designed to help its beauty consultants generate sales and manage their business. By end of 2015, mobile payments via apps in the UK grew 54% reaching a value of $457.8 million. Forrester Research shows IoT technology is already reshaping and revolutionizing the retail industry by providing better customer engagement, service and inventory control. Sephora released two new mobile apps, a beauty discovery app and a Tinder-like version to help customers pick and purchase from the Sephora Collection.
Pokemon Go is just one of the new Augmented Reality applications expected to impact retail and e-commerce in the near future. SmallBizTrends offered five new trends to watch in mobile technology. Despite the excitement, Monetate's Ecommerce Quarterly Report says mobile conversion rates are still relatively low. Galia Reichenstein, COO Taptica looked at how mobile commerce is changing business now and in the future.
Smartphones Overtake Computers as Top E-Commerce Traffic Source
For retailers at least, the most important screens are now the small ones.
Smartphones accounted for 45.1 percent of web-shopping traffic in the first quarter of this year, edging out computers at 45 percent, according to a study from Demandware, an e-commerce software provider. The firm, which was acquired by Salesforce.com Inc. this month, projects that number will continue to increase, with phones accounting for 60 percent of e-commerce visits by the end of next year.
While the rise of smartphone shopping provides retailers with an opportunity to reach customers any time and any place, merchants face obstacles in getting the most out of their mobile platforms. Those hurdles include lengthy checkout times and payment procedures that deter consumers from completing their orders. Demandware found that mobile-checkout completion is 11 percent lower than the combined rate from all other devices.
"If they can get it right on mobile today and tomorrow, that's where they're going to see a lot of value going forward," said Rick Kenney, author of the study and head of consumer insights for Demandware. Via bloomberg.com
Marketers Are Confident About Increasing Mobile Ad Spending, Though ROI Remains Uncertain
Heading into the latter half of 2016, marketers are confident about the digital future: 53 percent believe their businesses will grow in revenue over the next few years. And growth in VR, social media marketing, and IoT are key drivers that will increase customer interaction and loyalty in the coming year, according to a survey from the American Marketing Association (AMA) and Millward Brown Vermeer.
That said, the report finds that only 22 percent of respondents have insight into the true ROI of their key marketing programs.
"There is a continued knowledge gap that exists in the marketing community in terms of the digital transformation of an organization and the marketing therein," said Russ Klein, CEO of the AMA. "The companion thought to that is that marketers really also feel that there's not the organizational empathy from senior leadership in terms of appreciating the value of digital technologies and what is needed — both in terms of investment and training — so that marketers can add [all the] value to an enterprise that they're capable of." Via geomarketing.com
Sears borrows from Pokemon Go for app-based in-store scavenger hunt
Sears is combining two big mobile trends – real-world scavenger hunts and in-store activations – in the new Find Max game, enabling shoppers to search for clues and unlock prizes using the retailer's shopping application.
The game, which appears inside the Sears mobile shopping app, was developed with the makers of The Secret Life of Pets movie, bringing some of the film's characters to the interactive experience. Find Max is part of a back-to-school push from Sears that also includes a series of digital videos and two new private-label lines.
"Mobile technology is more integrated into the shopping experience than ever before," said Leena Munjal, senior vice president, customer experience and integrated retail for Sears Holdings. Via mobilecommercedaily.com
Mary Kay uncaps sales via beauty consultant-geared virtual assistant app
Cosmetics brand Mary Kay is rolling out a mobile application geared specifically toward its direct sellers, enabling the independent beauty consultants to manage their inventory, create sales tickets and order new products while on the go.
Mary Kay's myCustomers+ app acts as a virtual assistant for its beauty consultants, who can leverage the mobile tool to access digital inventory and enhance face-to-face transactions with buyers. The beauty brand, which maintains one of the largest direct-selling communities of color cosmetics and skin care products in the world, is currently expanding its suite of digital platforms by attempting to transform consultants' smartphones into always accessible mobile offices.
"At the sales level, Mary Kay relies more on people than technology – it's an inherently personal business, and the sales rep is the most powerful tool Mary Kay can put into the field," said James McNally, senior manager of business development at Prolific Interactive. "At the same time, an app that provides utilities like inventory management, and allows reps to build richer customer profiles, is without question a step in the right direction. Via mobilecommercedaily.com
Mobile banking on the rise as payment via apps soars by 54% in 2015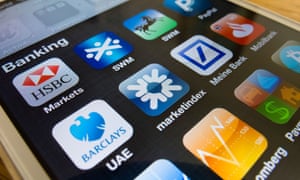 Smartphone-addicted Britons are embracing mobile banking, with payments via apps rocketing 54% in 2015 and reaching a value of £347m ($457.8m).
The average customer of certain UK banks views their finances on their phone more than once a day – and much of this balance checking and payment making is done while people watch TV, according to a report by the British Bankers' Association.
The average branch in the high street deals with only 71 customer visits a day – a 32% decline since 2011 – as consumers switch to online methods of managing money, the BBA says.
Customers use banking apps more than 7,610 times a minute – or 4bn times a year. Some of these services do a lot more than allow users to check their account balance or make payments. Atom, one of the new breed of digital banks, offers an app with a display that changes colour if the customer's finances are in good health but starts to "throb" if there is something they need to attend to that will cost them money. Via theguardian.com
How the internet of things is revolutionizing retail
Throughout all industries, a majority of large companies (those with 1,000 employees or more) are using or planning to use IoT technologies, according to Forrester Research's 2015 Global Business Technographics Networks and Telecommunications Survey. Those enterprises are hoping to gather data that can be leveraged to improve efficiency, serve customers better and gain insights into new ways of doing business.
But IoT technology is already reshaping and revolutionizing the retail industry, yielding advances and new opportunities in customer service, throughout the supply chain and in brick-and-mortar stores and other channels — including new venues that show a lot of promise, such as home-based connected platforms. Tech-savvy retailers looking to gain a competitive advantage are installing smart shelves that detect when inventory is low, RFID sensors that track goods throughout the supply chain, systems that send personalized digital coupons to shoppers when they enter the store, and sensors that monitor the quality of perishable items. Via cio.com
Sephora borrows from Tinder's playbook with swipeable mobile shopping tools
Sephora is bookending its recent sales-driving initiatives with two new mobile-first platforms, which enable consumers to use a fill-in-the-blank model to discover their ideal beauty product and leverage a Tinder-like interface to purchase items featured in favorite looks.
The retailer is tapping into the popularity of dating application Tinder – which enables users to swipe through individuals' profiles to pass or complete a match – to showcase its Sephora Collection products in a more millennial-friendly light and simplify the shopping experience. Sephora is also introducing the Beauty Uncomplicator platform to allow customers to whittle down their preferences in a bid to find the product best-suited for their needs.
"The idea came from our research – that our clients love to shop for beauty, and that it can also be very daunting," said Deborah Yeh, senior vice president of marketing and brand at Sephora. "Sephora Collection has the advantage of being one of the largest prestige brands available in the market, and therefore we knew we could build something that helps address the joy of shopping, while removing the anxiety that stems from the 'perfect product' search. Via mobilecommercedaily.com
Augmented Reality Examples: How Fashion & Retail Are Using It
Pokémon Go is officially a phenomenon which has everyone – both young and old – using their smartphones to engage in good old-fashioned scavenger hunts for colorful creatures who seemingly inhabit the world around us. But this isn't your grandparents folksy rummage through parks and backyards. Instead, Pokémon Go is but the latest advancement in the augmented reality space, which relies on smartphone amenities like location tracking and cameras to give players a digital escape without being confined to one's home – like in the case of interacting with next-generation consoles like the Xbox One and PlayStation 4.
While AR is getting all sorts of press for its applications as it relates to gaming, the fashion and retail industries were some of the first using the cutting-edge technology.
Look no further than these five cases. Via highsnobiety.com
5 Retail Automation Trends that Can Turn Your Business to Gold
Automation is like the fabled king Midas, whose touch could turn everything into gold. All the industries that have embraced automation, changed beyond recognition. In the retail industry, the changes are visible.
Automation is bringing new trends to the retail industry and impacting retail touch points and retail tech. Consumers are benefiting from it and so can small businesses.
The Growth Story
The key factors driving the growth of retail automation are the:
–  Need to reduce cost;
–  Demand from customers to improve the quality; and
–  Appreciation for automation in retail.
Now let's see the major trends and the actionable takeaways a small business owner can derive from them. Via smallbiztrends.com
Mobile conversion rates remain low for e-commerce
The latest edition of Monetate's Ecommerce Quarterly Report indicates that, though they're on the rise, mobile conversion rates are still relatively low.
Defined as the percentage of sessions with purchases on a website relative to that website's total number of sessions, conversion rates are a good indicator of how frequently shoppers become buyers.
PC-based "traditional" conversion rates hit 4% in Q1 2016, up from 3.62% in the comparable 2015 period. Smartphone conversion rates are at 1.3%, up from just 1.07% in Q1 2015. Via businessinsider.com
Mobile eCommerce: How It's Changing the World
Q: What trends has 2016 seen for eCommerce in the mobile space, and what do you expect for the remainder of the year?
A: We're seeing big brands invest in apps because apps are playing a critical role in eCommerce. It finally gives brands a platform where they can engage with their users, and when done right – push the right message at the right time – increase sales significantly. Urban Outfitters and The Gap are two good examples, but there are many more. These brands have invested in apps offering a better user interface, which is essential for maintaining and growing the customer relationship. At the same time, apps also make it easier for brands to reengage shoppers and learn about their likes and dislikes.
One of the key things about mobile is it bridges the divide between online and offline (eCommerce and the store). Home Depot is using mobile to navigate their stores, and when that data is combined with loyalty program data and push notifications, it yields a very clear picture of consumer behavior. Brands are also deploying beacons to increase the targeted use of push notifications, delighting the user in the right time. And increasingly, as eCommerce brands are relying more on apps, the UI around it has also gotten more sophisticated. Using data in a smart way to acquire engaged users, for example layering data, into Facebook creating smart look alike audiences reaching like-minded users. Platforms such as Facebook are spending a lot of efforts to improve their offering, including carousel ads and dynamic product ads. Via adotas.com
Robots Are Taking Over Retail
Though not quite as exciting (or terrifying) as artificial intelligence per se, chatbots and virtual assistants are proliferating, especially in retail. Through a partnership with IBM Watson, Macy's recently joined the growing list of retailers that are implementing AI-infused technology to help improve customers' shopping experiences.
That brands are flocking to Watson-esque technology is more sensible than it is remarkable. Retailers have long struggled to meaningfully marry digital with their in-store business, and while many assumed the advent of Big Data would help address some of the divide here, processing and actioning these reams of data has proved a considerable challenge for many. So, enter the robots; machines capable of quickly processing company and customer data and conveying their learnings to customers, often in a natural language conversation.
Obvious benefits aside, the increasing adaptation of Watson and its ilk begs a couple of questions: how are these chatbots and virtual assistants actually fitting into customers' everyday shopping experience, and (crucially) what role will human customer service agents play in a retail world ran by all knowing, talking/texting machi1nes? Via dmnews.com
Mobile is a business reality
The biggest challenge for business with mobile commerce is integrating it into the marketing omnichannel and meeting customer expectations for service and engagement. We expect mobile commerce to change quickly and constantly and we'll be here to provide news you can use and valuable insight. Don't forget to subscribe at the top of the page for news in your inbox every M-W-F morning. Enjoy your weekend!